Hey, kids! Yeah, yeah, it's been a while and I obviously didn't fare well with
NaBloPoMo
. Eh, whatever. But I DO know someone who completed
NaNoWriMo
, so a HUGE CONGRATS to my friend H. You did it! There was never any doubt. So now I know a novelist! I guess that makes both of us cool.
Aaaand on to some food and crappy pix. Wouldn't it just ruin things if I actually had a decent camera?
Earlier this week I made my friend
VeganWitch
's spinach lasagna.
YUM. I also made it last Thursday--on that day that some people "celebrate" but which is actually a day of mourning--for Nannie and she loved it. V was pretty fond of it too, as evidenced by his three helping dinner. As always, I added way more spices and garlic than called for.
It's super easy to put together and utterly delicious. Make it. Like now.

Kick Ass Lasagna

Ingredients

* 2-3 jars of favorite spaghetti sauce
* 1-16 oz bag of spinach leaves
* 1/2 lb. carrots
* 1/4 cup chopped fresh parsley
* 2 cloves minced garlic
* 1/4 cup canned low-sodium veggie broth
* 1 lb. tofu (I usually mash in some oregano, pepper, garlic powder and salt)
* 8 oz. vegan "cream cheese" (I use tofutti)
* 2 Tblspns. lemon juice
* 1/8 teaspoon nutmeg
* 12 lasagna noodles, cooked
* 1/4 cup nutritional yeast

Directions:

Preheat oven to 375 degrees.

Slice carrots and steam, set aside. Add olive oil to a large skillet, place over medium-high heat until hot. Add parsley and garlic, saute for 1 minute. Add carrots and veggie broth; simmer uncovered for 5 min. Add tofu, vegan "cream cheese", and lemon juice; stir well. Cook over medium heat stirring constantly until fake cheesy stuff starts to melt. Stir in nutmeg and nutritional yeast. Remove from heat; keep warm.

Place 3 lasagna noodles in bottom of large baking dish. Spread carrot mixture over top, place 3 noodles on top of that and spread tomato sauce and spinach on top of those, repeat process until all noodles are used up... top with spaghetti sauce. Cover and bake 15 minutes. Uncover and bake an additional 30 minutes. Enjoy!
On Thursday I decided not to go to work. Actually, on Wednesday I decided not to go in on Thursday. Late in the day I decided chocolate chip cookies would be a good idea. So here they are: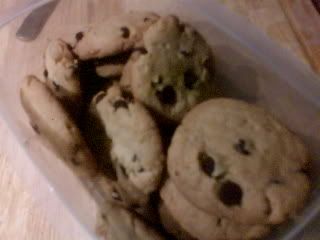 I used the recipe from
The Joy of Vegan Baking
. Something went awry but it was most certainly user error, as others have made this recipe with great success and that book is fucking amazing (as evidenced by the cranberry scones I made last week). Not sure what I did but the cookies didn't spread in the oven as usual, so for the second batch I had to flatten them before baking which I think made for a crunchier cookie. I prefer chewy, but whatever, they're good and of course being eaten. Oh, and I also added walnuts. Cuz, well, they're walnuts.
Next, on to some soup. I also didn't go to work on Friday (I actually was feeling kind of crappy both days--due to the fact that I'm a GIRL), so I made some potato soup. This is also one of VeganWitch's recipes and it is positively fantabulous. Make it. Like the day after you make the lasagna. Okay, that may be a bit much back to back, but toss together a salad and look how healthy you are! Besides, this soup has broccoli in it, and everyone knows that any dish with broccoli is super healthy.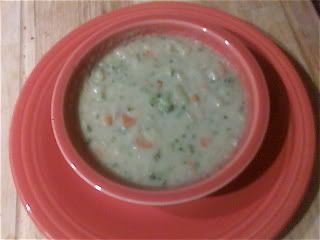 Creamy Potato and Broccoli Soup

I have made this recipe several times in the last few weeks.....it is so awesome. I like to serve it with a sprinkle of vegan "bacon" bits and a dollop of vegan sour cream.

Ingredients:
1/4 cup of vegan margarine (I use Earth Balance)
1 large onion
6 potatoes, peeled and diced
2 carrots, diced
3 cups of water
2 tablespoons of veggie bouillon powder
ground black pepper, to taste
3 tablespoons of all-purpose flour
3 cups "milk" (I used Silk enhanced with flax and DHA)
1 head of broccoli (frozen or steamed)
1 tablespoon of dried parsley
1/4 teaspoon dried thyme
salt, to taste

In a large stock pot melt the margarine and add the onions and cook over medium heat until the onions are translucent.

While the onions are cooking, place the diced potatoes, carrots, water and bouillon powder in another stock pot and bring to a boil. Cook until tender, about 10 minutes. Season with black pepper to taste.

Add the flour to the cooked onions to make a paste. Gradually add the "milk" and stir well. Cook over low heat stirring constantly until warmed through. Add the potato and carrot mixture. Stir in the broccoli, parsley and thyme and heat through. Add salt to taste.

I have also made variations of this soup using celery, garlic and veggie broth. Also have tried topping with vegan cheddar and croutons.

Enjoy!
Again, an easy and tasty recipe. You'll have leftovers, but it doesn't make it to the freezer around here--it's just too damn good and gets eaten quickly.
Lots of things going on aside from kitchen activities. Maybe I'll get to some of that later.